Tate Modern




(
2 vote, 70.00% worth checking out
)
Rate this: Use the stars above to vote, five stars being a must visit. |
Location:
Bankside
London
United Kingdom
coordinates:
51.5078964,-0.0993061
open coordinates in google maps
open coordinates in apple map
Building names(s):
Tate Modern
Architect/Designer:
Herzog & de Meuron
more images:
Completion date: 2000
function(s): contemporary art, gallery, museum
website
:
www.tate.org.uk
hours:
Sunday – Thursday 10.00–18.00 Friday and Saturday 10.00–22.00 Last admission into exhibitions 17.15 (Friday and Saturday 21.15) Entry is free except for major exhibitions
Latest News: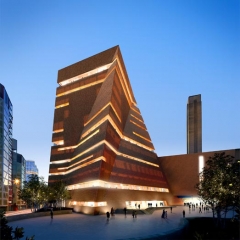 The revised plans for the new development of Tate Modern by leading international architects Herzog & de Meuron have been granted planning permission by Southwark Council it was announced on the 31 March 2009.  In response to a revised brief, and in consultation with artists and curators, the architects have refined designs to create a dramatic new museum for the 21st century. At the heart of the new plans are the unique oil tanks of the former power station, which will be retained as raw spaces for art and from which the new building will rise. The project is due to be completed in 2012 at an estimated cost of £215 million at 2012 prices. To date Tate has raised £74 million, which represents a third of the overall costs.
read more
updated on: 14 May 2012 | suggested on: 19 May 2009 | Suggested by Bronwyn