Serpentine Gallery Pavilion 2013





(
1 vote, 100.00% worth checking out
)
Rate this: Use the stars above to vote, five stars being a must visit. |
Location:
Outside the Serpentine Gallery
Royal Park of Kensington Gardens
London
United Kingdom
coordinates:
51.5046806,-0.1750088
open coordinates in google maps
open coordinates in apple map
Building names(s):
Serpentine Gallery Pavilion 2013
Architect/Designer:
Sou Fujimoto
architect website:
more images: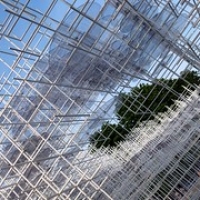 Completion date: 2013
completion date: 2013
function(s): pavilion
getting there:
Nearest Tube: South Kensington or Lancaster Gate
opening hours:
Gallery open 10am to 6pm daily.
gallery website:
www.serpentinegallery.org
design concept:
Occupying some 350 square-metres of lawn in front of the Serpentine Gallery, Sou Fujimoto's delicate, latticed structure of 20mm steel poles will have a lightweight and semi-transparent appearance that will allow it to blend, cloud-like, into the landscape and against the classical backdrop of the Gallery's colonnaded East wing. Designed as a flexible, multi-purpose social space - with a café sited inside - visitors will be encouraged to enter and interact with the Pavilion in different ways throughout its four-month tenure in London's Kensington Gardens.
click here
for a list of previous Serpentine Gallery Pavilions.
updated on: 6 October 2014 | suggested on: 24 July 2013 | Suggested By LT