Kreeger Museum




(
7 vote, 77.14% worth checking out
)
Rate this: Use the stars above to vote, five stars being a must visit. |
Location:
2401 Foxhall Road
Washington DC
20007
USA
coordinates:
38.9218330,-77.0887299
open coordinates in google maps
open coordinates in apple map
Building names(s):
Kreeger Museum
Architect/Designer:
Philip Johnson
more images: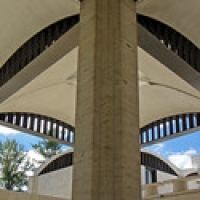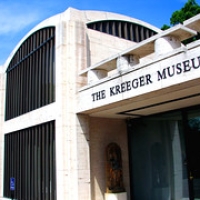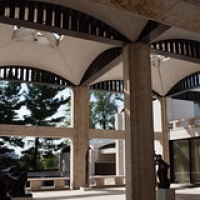 Completion date: 1963
completion date: 1963
function(s): contemporary art, gallery, museum
website:
www.kreegermuseum.org
opening hours:
Tuesday-Thursday: Reservations required for admittance. Guests must sign up for the 10:30 am or 1:30 pm guided tour. Call 202-338-3552 or email
[email protected]
Friday & Saturday: 10 am to 4 pm. No reservations needed. Optional guided tours at 10:30 & 1:30 on Fridays; 10:30, 12:00 & 2:00 on Saturdays The Museum is closed Sundays, Mondays and the month of August.
Admission cost:
$10
getting there:
Although The Kreeger Museum is located in a residential area of Washington that is not convenient to bus or Metro, it is possible to arrive by public transportation. Sidewalks have recently been added along Foxhall Road. Bus: The D6 bus provides access to The Kreeger Museum and is the easiest way to arrive at the Museum by public transportation. The D6, which stops in Dupont Circle (at the corner of P and 22nd), among other locations, provides access to The Kreeger Museum from the downtown area. Take the D6 headed West, toward Sibley Hospital, and get off at the corner of Reservoir Road and Foxhall Road, not far beyond Georgetown Medical Center. Walk up the hill on Foxhall Road (there are few sidewalks on this part of Foxhall) approximately half a mile. The museum is located on the right-hand side just after The Field School. Metro: The nearest Metro stop is Tenleytown, on the Red line. When you arrive at the Tenleytown Metro stop, exit onto Wisconsin Avenue, NW. From this location the easiest way to reach the museum is by taxi. Walking from the Tenleytown Metro Station: If you choose to walk please be advised that it could take as long as 45 minutes along roads that do not have sidewalks through certain areas. Take Wisconsin Avenue, NW headed south until you reach Tenley Circle. At Tenley Circle turn right onto Nebraska Avenue, NW headed southwest. Follow Nebraska Avenue, NW through Ward Circle, past American University. Continue on Nebraska to its intersection with Foxhall Road, NW. Turn left onto Foxhall Road, headed south. After crossing Dexter Street, NW, the Kreeger will be on the left. The museum is located approximately one half mile down Foxhall on your left-hand side.
updated on: 25 September 2013 | suggested on: 22 September 2013 | Suggested By LT