Hill of the Buddha





(be the first to vote by clicking on the stars)
Rate this: Use the stars above to vote, five stars being a must visit. |
Location:
Makomanai Takino Cemetery
2 Takino
Minami-ku
Sapporo-shi 〒005-0861, Makomanai
Japan
coordinates:
42.9205589,141.3627319
open coordinates in google maps
open coordinates in apple map
Building names(s):
Hill of the Buddha / Atama Daibutsu
Architect/Designer:
Tadao Ando
more images:
photographs needed - please consider contributing to our free website
Completion date:
completion date: 2015
function(s): cemetery, religious, shrine
getting there: 20 minute taxi ride from Makomanai station or follow the instructions below for public transport
T:011-592-1223
Visiting hours: 9 a.m.- 4 p.m.(April - October) , 10 a.m.- 3 p.m.(November - March) Closed: The year-end and New Year's holidays,maintainance days
admission cost: 300-yen donation per person is requested for maintaining the lavender fields and facilities.
website: http://takinoreien.com/ [Japanese & English]
address in Japanese: 頭大仏 Japan 〒005-0862 Hokkaidō, Sapporo-shi, Minami-ku, Takino, 2番地
map of Makomanai Takino Cemetery: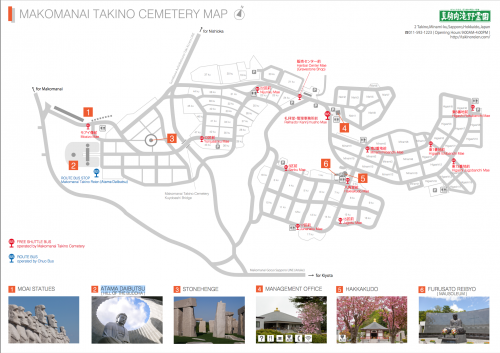 -
download the map here
design concept:
'The aim of this project was to build a prayer hall that would enhance the attractiveness of a stone Buddha sculpted 15 years ago. The site is a gently sloping hill on 180 hectares of lush land belonging to a cemetery. The statue is 13.5 metres tall and weighs 1500 tons. It is made of fine, highly selected solid stone. Until now, the Buddha statue has stood alone in the field, giving an unrestful impression.....Our idea was to cover the Buddha below the head with a hill of lavender plants. We called the idea the 'head-out Buddha'. Embedded under the hill are a 40-metre approach tunnel and a rotunda embracing the statue. The design intention was to create a vivid spatial sequence, beginning with the long approach through the tunnel in order to heighten anticipation of the statue, which is invisible from the outside. When the hall is reached, visitors look up at the Buddha, whose head is encircled by a halo of sky at the end of the tunnel..
- Tadao Ando
tip: visit in summer to see the Buddha hill covered in flowering lavender plants.
updated on: 26 July 2017 | suggested on: 26 July 2017 | Suggested By LT