GC Prostho Museum Research Center




(
6 vote, 70.00% worth checking out
)
Rate this: Use the stars above to vote, five stars being a must visit. |
Location:
2-294 Torii Matsu Machi
Kasugai-shi
Aichi Prefecture
Tokyo
Japan
coordinates:
35.2403183,136.9696808
open coordinates in google maps
open coordinates in apple map
Building names(s):
GC Prostho Museum Research Center
Architect/Designer:
Kengo Kuma
more images: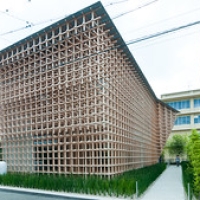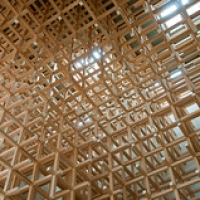 Completion date: 2010
function(s): museum
Site Area: 421.55 sqm Built Area: 233.95 sqm Total Floor Area: 626.5 sqm
design:
This is architecture that originates from the system of Cidori, an old Japanese toy. Cidori is an assembly of wood sticks with joints having unique shape, which can be extended merely by twisting the sticks, without any nails or metal fittings. The tradition of this toy has been passed on in Hida Takayama, a small town in a mountain, where many skilled craftsmen still exist. Cidori has a wood 12 mm square as its element, which for this building was transformed into different sizes. Parts are 60mm×60mm×200cm or 60mm×60mm×400cm, and form a grid of 50cm square. This cubic grid also becomes the grid on its own for the showcase in the museum.
updated on: 20 June 2012 | suggested on: 20 June 2012 | Suggested By LT