Centre Pompidou-Metz




(
3 vote, 86.67% worth checking out
)
Rate this: Use the stars above to vote, five stars being a must visit. |
3 Comments
Location:
1, Parvis des Droits de l'Homme
Metz
57000
France
coordinates:
49.1077461,6.1800456
open coordinates in google maps
open coordinates in apple map
Building names(s):
Centre Pompidou-Metz
Architect/Designer:
Shigeru Ban
+ Jean de Gastines
more images:
pompidou-metz-001-med-res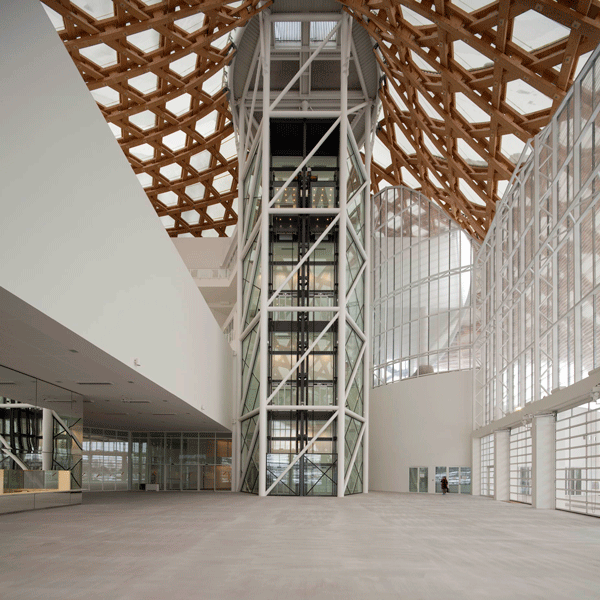 Completion date: 2010
function(s): contemporary art, gallery, museum
function
: gallery
website
:
www.centrepompidou-metz.fr
building description
: Centered around a 77m high spire, the roof spans an area of 8,000 m2, made from a glue-laminated timber mesh resembles the cane-work pattern and technical properties of a Chinese hat. The mesh is highly resilient, requires minimal support, and it is coated in a waterproof membrane made of white fiberglass and Teflon. three galleries in the shape of rectangular (parallelepipedic) tubes weave through the building at different levels, jutting out through the roof with huge panoramic windows, angled towards landmarks such as the metz cathedral, the metz station and the seille park.
height
: 77m
total floor area:
11330m2
structure:
reinforced concrete, steel frame, wooden
area
: 10,660m²
getting there:
On foot a 2-minute walk from the high-speed TGV train station in downtown Metz, a 10-minute walk from historical downtown. By car via the A4 (Paris / Strasbourg) and A31 (Luxembourg / Lyon) motorways, exit Metz Centre. 700 space car park. By train to the high-speed TGV train station Metz Ville. Direct trains: just 1 hr 20 min from Paris, 40 min from Luxembourg Ville. To the Lorraine TGV train station (35 km from Metz, shuttle service) Direct trains: 2 hrs from Lille Europe, 4 hrs from Rennes, 5 hrs from Bordeaux, 2 hrs 40 min from Frankfurt. By plane to the Metz-Nancy Lorraine airport (18 km / 20 min), the Luxembourg airport (69 km / 45 min), the Saarbrucken airport (79 km / 1 hr), the Zweibrücken airport (110 km / 1 hr 20 min).
updated on: 12 December 2011 | suggested on: 2 March 2010 | Suggested By LT